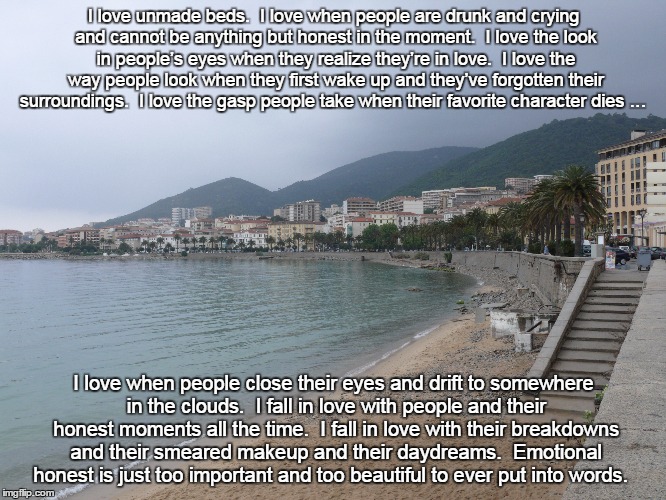 There is a time and a place for complete candor – total bearing of your soul to another.
Emotional honesty devoid of subterfuge, pretense,  or self-delusion would have made a difference; Ed, if you had taken this path, the ending would have been very different.
After all is said and done, the turning point in the story is Valjean stealing the candlesticks;  from this came the second chance, and the forgiveness, he did not squander.
You missed the entire point of your favorite show …
I gave you that chance, and even the forgiveness you sought – to the point that I could and maintain any sense of respect for my values and my beliefs, but you couldn't be honest with yourself, or me.
Ed, why?  We both know who and what you are.  We both know what you did.
Is it more comfortable to live in a world with people who don't really know you?
And if it is, of what value can that possibly be?
Where  the hell is the hero's redemption?
This is what you said of me, and you, in your email dated October 25, 2014: "You are 1st person, direct, focused, black and white and brutally honest. I write in the 3rd person, in allegories, and honest in a more indirect way."
Honesty is never indirect.
Honesty is blunt, unambiguous, absolute, and, as you pointed out, sometimes brutal – but within the context of father and son it does not require allegory; we lived the same life, Ed.  I know and you know what you did.
Allegory shields you, but only from yourself.  There is no hidden meaning, no symbolic salvation in your story as my father; you beat me, neglected me and failed to live up to your obligations as a father.  There is no way to interpret that as any sort of moral or political lesson.
Your use of literary device failed.
I wanted, needed, and deserved complete emotional honesty from you — no matter what giving me that did to you.
All I asked was that you face yourself, and share that with me.
I couldn't go through life wondering if you were manipulating me, or attempting to. Honesty, and the trust only honesty could begin to build, were vital to our going forward.
And that was never going to happen.
You can't face yourself.
Difficult to understand given that I already know the worst of you – there really are no secrets there.  I faced you, and I was willing to give you the chance you asked for …
but you couldn't look into the mirror and behold yourself.
You have done shameful things – things you don't want anyone in your life now to know or understand or viscerally absorb.
As much as you'd like for people to believe there are two Ed's, there is only one.
There is just Ed …
who pretends to be  a decent man today.
Here's the rub …
a decent man would have found a way to face himself …
A decent man would have bared his soul, would have allowed himself to feel – honestly and openly, about what he had done …
A decent man would have taken the second chance he was offered …
and a decent man would have used that chance to become
who he now pretends to be.
Valjean's redemption …
and salvation …
came when he accepted the candlesticks …
and the responsibility that came with them.